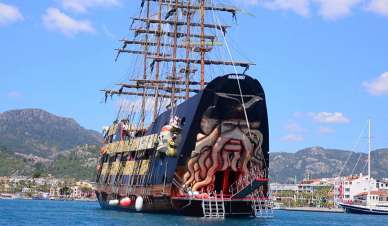 Halal Concept Boat Tour 8 Hours - Start From €15
The natural beauty of the Alanya Peninsula, geological structures and legendary events with famous Pirates Cave, Phosphoric Cave, Lovers Cave, Red tower with the view of the historic Seljuk shipyard and the city by the sea. Table seating on the 1st floor for families. You can also swim in the open sea. Foam party for kids, and some animation shows for adults. Short and pleasant boat trip awaits you. (The boat trip is organized for guests of Halal).

ALANYA BOAT TRIP ITINERARY:

* Pick-up from hotels/apartments from Alanya and around
{14:15 Avsallar (Modern Saraylar Halal Luxury Suite Residence Resort, Wome Deluxe Hotel)
14:20 Türkler (Adenya Hotel Resort, Adin Beach Hotel, Long Beach Resort Hotel)
14:30 Payallar (Tuğra Suit Hotel, Atlas Beach Halal Hotel)
14:40 Konaklı (Bera Alanya Hotel, Algora Halal Hotel)
14:45 Dinek (Sea Star Halal Hotel)
15:00 Alanya center around }
* Transport to Alanya harbour
* Leaving from Alanya Harbour at 15:15 o'clock
* Watching at Alanya old shipyard, Red tower from the ship
* Swimming near the shipyard
* Pirates Cave
* Lovers Cave
* Phosphorous Cave
* Cleopatra Beach
* Swimming breaks
* Foam party (Only for the kids)
* Watching the dolphins (If it is a lucky day)
* Back to Alanya harbor from open water
* Drop off at hotels/apartments in Alanya and around

PRICE INCLUDES:

* Pick-up and drop off from hotels and apartments in Alanya
* Guide
* Soft drinks(Water, Coke, Fanta, Sprite, Tea, Coffee etc.)
*Animations, Entertainment

OPTIONAL EXTRAS:

* Ice-cream
* Photos
Important Notes
* Changing cabins, restrooms, WC, and showers are available on our yacht.
* 1. 2 times swimming breaks are available. If you want to swim, you should take your swimming suit, sun cream, and a towel with you. (Woman's can swim only with burkini)
* In case of seasickness, the guests are recommended to purvey relevant medicine during the tour.
If you cancel your tour reservation within the last 24 hours before the tour, your payment will be refunded in full without any deductions. Refunds are processed within 3 to 10 business days, depending on your bank.
After selecting your tour package, click on the "Make Reservation" button, enter the necessary information, confirm the reservation, and proceed with the payment. Once completed, your reservation form will be sent directly to the email address you provided.