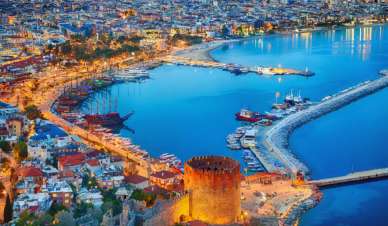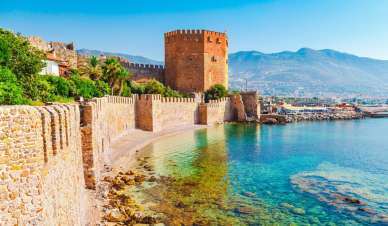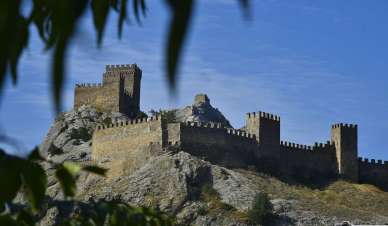 Alanya Cultural Tour 8 Hours - Start From €40
Alanya city tour is a full-day guided sightseeing tour. Accompanied by your experienced tour guide you visit the following places during the course of the Alanya city tour
Alanya castle; is located on a rocky cliff about 250 meters from the sea that offers a wonderful panorama over the city, to Taurus mountains and beautiful sandy beaches. It is not known the exact foundation date of the castle but contributions from the Romans, Byzantines, and Seljuks are there to be seen. Most of the castle was built in the 13th century under the Seljuk Sultanate of Rûm following the city's conquest in 1220 by Alaeddin Keykubad I as part of a building campaign that included the Red Tower.

Alanya cable car (Teleferik) up to the Alanya castle; Marvelous Alanya view by Alanya Cable car (Teleferik).It is optional and depends on the participants of tour requests.
Cleopatra beach; is one of the most famous sandy beaches in the world. Its name derives from the Egyptian queen, Cleopatra. It was a present to her from Roman commander Marcus Antonius and They both swam here
Dim Cave is the biggest and most beautiful natural limestone cave in the area. It is about 350 meters long and has got numerous stalactites and stalagmites dating back over 15,000 years.
Fruit Garden; It is a nice garden of a nomad villager. You will pick some fresh fruits up with your own hand and enjoy tasting them (bananas, orange, kiwi, papaya, ext)
Dim River; is a popular picnic place having a restaurant over the water. You can sit and have lunch in this restaurant's sofas. Swimming in the river is also available.
Dim Dam; was built for electricity and watering. You will enjoy its fantastic view and take nice photos.

PRICE INCLUDES:

* Pick up/drop off from hotels and apartments in Alanya
* Guide
* Lunch
* Fresh fruits in the garden

OPTIONAL EXTRAS:

* Drinks
* Dim cave entrance fee (5€)
* Alanya cable car (teleferik) fee (8€)
Important Notes
* If you have limited time, Alternatively, you can prefer our Alanya city tour and Alanya cable car tour which is organized every day at sunset time by Cabrio bus.
* If the weather is nice, you are able to swim in the dim river. You should take your swimsuits and towel
* Our tour is with small groups and we use an air-conditional comfortable bus.
If you cancel your tour reservation within the last 24 hours before the tour, your payment will be refunded in full without any deductions. Refunds are processed within 3 to 10 business days, depending on your bank.
After selecting your tour package, click on the "Make Reservation" button, enter the necessary information, confirm the reservation, and proceed with the payment. Once completed, your reservation form will be sent directly to the email address you provided.